Catalpha Helps Cosmic Pet Products of Hagerstown, MD, Take Sales Out of This World with a Brand New Look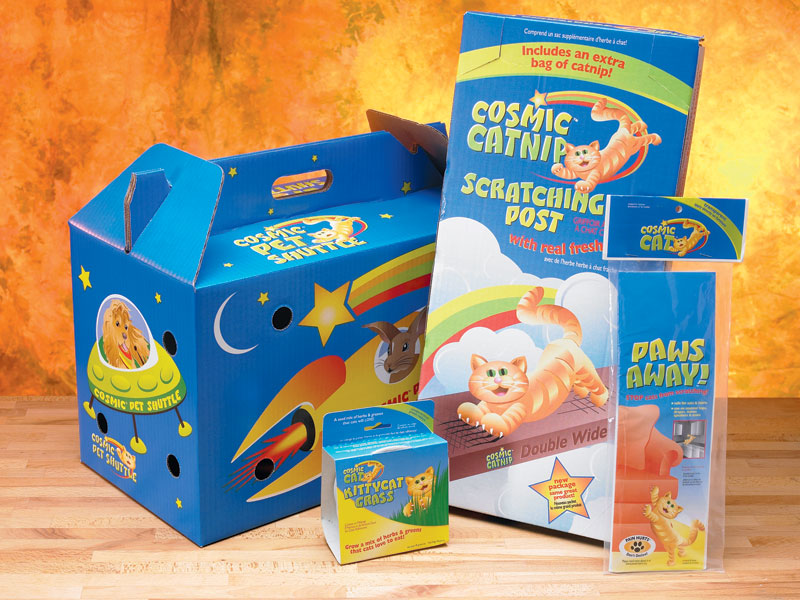 When Cosmic Cat Corporation of Hagerstown, MD, first opened its doors for business bell bottoms were the fashion rage, appliances came in Harvest Gold and Avocado and specialty products for pets were just a glimmer in the market's eye. Fast forward more than 30 years and the specialty pet product industry is huge, Harvest Gold is gone and Cosmic Cat Corporation has become Cosmic Pet Products.
But until recently, their look hadn't changed with the times, and the company was in danger of getting left behind.
Not anymore, thanks to a fresh take on Cosmic Pet Products' entire visual identity from logo to packaging, courtesy of Catalpha Advertising & Design of Towson, MD.
"Over the years the look became dated my major customers were saying we need to change it," explains Cosmic Pet's President, Leon Seidman. "We had gone through two previous changes in packaging design. The first art was a whim when I started the business because I had a friend who was an underground artist, so we had this sort of Halloween cat. Later I found a commercial artist who redid the work in a less 1970s style, but it still got dated and wasn't working."
Seidman had tried several previous designers, but no one seemed to "get" what his company was all about. "We have a certain flavor – the name Cosmic denotes more than just a business," he says. That's when Karen Kerski from Catalpha came into the picture.
Kerski called at the right time – Seidman was looking to revamp his company's image and go with a more modern look that still respected their roots. After meeting with Seidman and getting a sense of his company's style and what the market needed, Kerski took the challenge back to the Catalpha design team.
"Leon wanted a personality to his packages," Kerski explains. "The treat products had restaurant-style names and he wanted a sort of upscale look that was still fun, along with a new type of packaging with a ziplock to keep the treats fresh. We wanted to produce something that was more competitive to what was on the shelf, something softer and more inviting, with a clearer definition of what the product line was."
The Catalpha team got to work, keeping major elements of the original logo and image including the orange cat, rainbow and star but updating them to a cleaner design.
"What we ended up with was different than what I expected going into it," says Kerski. "The design has a fun look – it uses the blue color the client likes but it's a simpler design that won't need to be updated or changed to fit the times. Getting the look for the cat was the hardest part – capturing the eyes and the expression was a real challenge."
Kerski took the designs back to Seidman. So what did he think of their efforts to update his look?
"When Karen showed up with the sketch I said 'that's my Cosmic Cat's grandson!" says Seidman. "That was a great logo — they got it."
Best of all, Seidman's investment in a new look has paid off in the market.
"Response to the new artwork in the marketplace is amazing. It's almost universally loved – it's tremendous." President, Leon Seidman
Our industry has evolved and the look is very professional now. With my previous packaging you couldn't tell what it was from a distance…there was no continuity and it was too cluttered. Catalpha cleaned everything up, sharpened the idea and made it look professional without destroying the spirit. They were very, very successful.
The major buyers, including PetSmart and Petco, were ecstatic and the design has made a major spike in sales. The new look has really maintained my market…I was getting lost. This not only saved shelf space, it's beginning to expand it."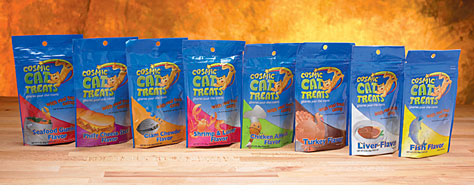 Cosmic Pet Products has been so pleased with Catalpha's redesign that they are changing all of their product packaging to the new design. Everything from treat packages to holiday stockings, pet carriers and more will feature the new design. And the company so encouraged they're looking to expand their product line, too, even considering going to the dogs soon with new canine products.
"This is a big undertaking to do an entire package change," says Seidman. "But I'm extremely happy with what Catalpha is doing. Anyone who's a professional artist can put color on a page, but to be able to get behind the visual imagery and understand the spirit of a company takes a special kind of person. It's not just your basic commercial artist who does that, this is harder. Creating product and packaging and branding is a very difficult thing to do well. The face of the product has to sell the package. I'm ecstatic with my good fortune to have Catalpha find me when I needed it."
Contact us today for a FREE Branding Consultation.
We'll discuss specific tactics that can help brand your business!
100% Privacy. I will never spam you.