Custom Cardboard Displays
Get Your Product Noticed In Store With Short Run / Low Quantity Custom Displays
Merchandising is key to your product's marketing plan. Whether it's announcing the launch of a new product or boosting sales for seasonal products, custom cardboard display stands are the best way to win your customers' attention in a retail store.
Achieve Attention at Point-of-Purchase
It's well known that customers make 72% of their purchase decisions at the point of purchase. Custom solutions like P-O-P cardboard retail displays, make your product stand out.  They also provide additional incentive to a store buyer to place your product in their store.
You put in the hard work to make the best product possible. Now make sure your product is noticed with our custom corrugate display solutions.
Find the Right Display for the Right Space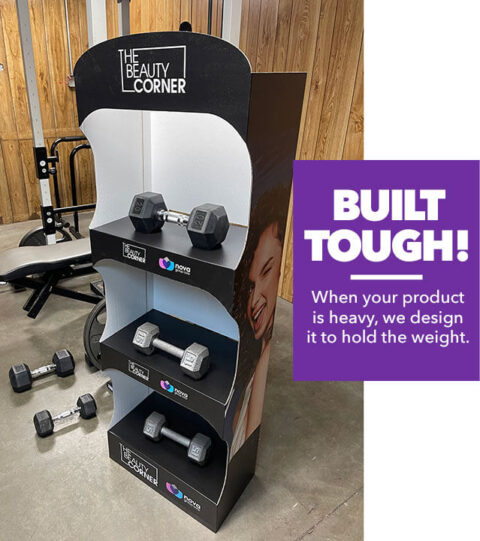 In retail settings, the "goldilocks effect" should be top of mind. After all, a cardboard floor display that's too large for the space it is intended for will only annoy shoppers while counter displays that are too small will go unnoticed.
Catalpha's custom cardboard displays for retail are designed to be just right. From cardboard counter displays to large corrugated cardboard floor displays, our custom display solutions will fit your store and your product perfectly.
Achieve the success your brand deserves with custom counter or aisle displays built to fit and designed to stand out.
Consistency is Key
When creating in-store displays, they should match the brand look of your packaging. 
If you need help keeping your display art consistent with the rest of your brand, rest assured we can help.  We've been helping clients develop and extend their brand designs through displays and packaging for over 35 years.
A consistent brand look will help your customers find your brand quickly even in a crowded product aisle.
Custom Retail Displays We Custom Design and Print
We also offer a range of custom options for our customers, including luxury packaging, short-run printing, and more. If you don't see a type of display on this page, reach out to our team today to discuss custom solutions for your brand!
All of Our Corrugated Display Products are Designed and Printed in the U.S.

Catalpha offers a variety of retail product displays and packaging solutions for every kind of retailer. Explore our case studies to see how our merchandising displays have helped our customers and then reach out to us today to get an estimate on your display needs.
Call Today – 888-337-0066 Or fill out this form for a quick estimate on your next display project.
100% Privacy. I will never spam you!