PERFORM
Packaging Design Case Study: Health Product
Perform was an existing pain relief cooling gel that was in need of a packaging refresh. This product incorporated BIOFREEZE ingredients, a major pain relief product well known in the clinical market. Catalpha was approached to bring the two together, and establish a design that worked well in the over-the-counter drugstore market and across their multiple product delivery systems.
The Strategy
Catalpha was not new to the PERFORM brand, having worked on the marketing materials original BIOFREEZE Brand. The strategy was to redesign the existing PERFORM packaging design so that it resonated with the target consumer and stood out in the busy retail environment. Our design decisions were as follows:
A simplified, more defined logo
We eliminated the running man graphic at the end of the logo which took up real estate that could be better utilized. And while re-orienting the logo horizontal to make it more easily read and by surrounding it with a generous blue field we gained the emphasis that was necessary, and freed up space.
Better focus on feature/benefits
With the added space created, we were able to make the benefits of the product stand out. Graphic icons were developed to highlight the different application benefits for each product delivery system – Gel, Spray and Roll-On.
Building on brand equity
Incorporating the brand name BIOFREEZE was key, due to its wide popularity in the pain relief arena. By placing it in a metallic panel it was not lost, but it also didn't overpower the Perform brand.
Moving Forward
Following the initial product release of the Cool & Soothing Pain Relieving product line, a second line was rolled out — Perform Atomic Heat. Building on the newly created brand look, Catalpha took and heated things up with a hot, red-gold look.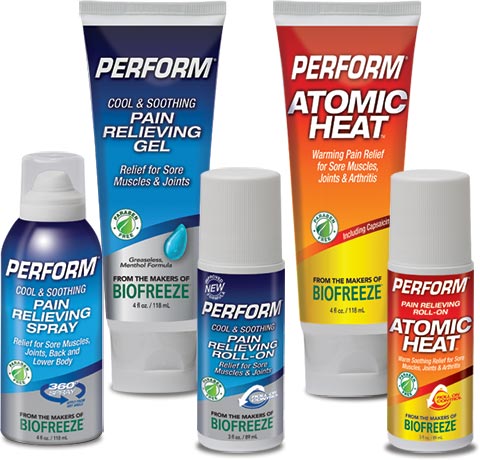 As with any new product launch, marketing is key. Catalpha was called on to develop additional marketing, promotional and in-store point-of-purchase material. In-store renderings were often developed to float ideas to potential retailers, and Catalpha would follow up with production files. Various POP configurations were developed, as well as various in-aisle signage including shelf talkers and aisle violators.
As a further extension, PERFORM products are also frequently marketed with sister products and Catalpha has designed numerous co-branded POP, bundled packaging. Pharmaceutical publication inserts that featured product samples were also designed, all under the newly branded and distinct PERFORM brand

Are you ready?
Contact Catalpha to schedule a risk-free consultation on your next project.
Don't take our word, listen to our customers…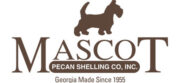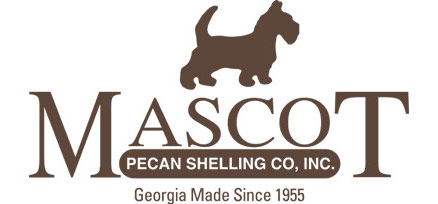 Thanks for all the help you do for our company!
Jake Tarver, Mascot Pecan Co.


I wanted to inform you I've received the shipment and the boxes look great! Thank you for making the reorder easy and getting them to me quick.
Anthony Daraban, Luvit LLC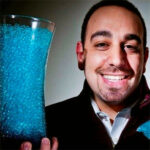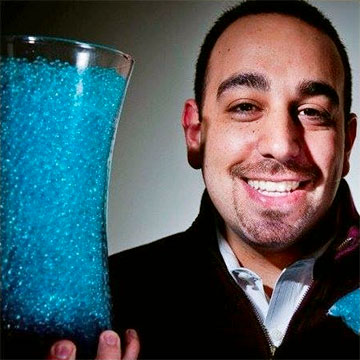 "Catalpha created our initial branded package which gave us a great look and the confidence to walk into any buyer's office knowing we had a quality product in a packaging that would stand up to or beat any of the competitors."
Daniel Baumwald,
TheraPearl