Direct Mail Campaign for the St. Joseph Medical Center Cancer Symposium 
Two part direct mail event invitation with online sign-up generates successful response.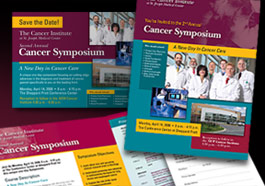 With the success of last years Cancer Symposium direct mail campaign, St. Joseph again turned to Catalpha Advertising & Design for marketing support. The challenge was to create an effective direct mail campaign that would generate enough attendance from the general practitioners it was aimed at, to make the event a success.
Armed with a mailing list of 10,000 local physicians, we developed a 2 piece mailing program which consisted of a 'Save The Date' postcard announcement, followed by a large (8.5" x 11") multi-page mailer that described the event and the speakers in detail. There were multiple ways to respond to this mailing which included an online sign-up website within the client's regular site.
The mailing was a great success that generated an overwhelming attendance of physicians and staff.
Call Today 888-337-0066
Let us know how we can help you with your next project.