Increase Lowes Home Improvement Warehouse Buy In of Black & Decker Power Tools
Unique retail end cap display expands power tool appeal out on the floor.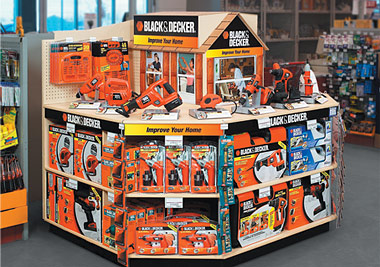 Lowes has a "designated" tool area that is segregated from the rest of the store with only one entrance/exit. This tool area is a low traffic area and is only visited by the predominantly male tool buying audience with little diversification. Furthermore, no power tool has ever been given "prime" floor positioning at the front of a store or at a register end cap. So the challenge was to come up with a solution that will expand the power tool audience beyond the traditional target. We needed to capture the female consumer without alienating the existing audience while adhering to the channels in-store display restrictions.
Black & Decker Home Zone Display Strategy
Create a permanent register end cap display that is user friendly, but that has graphics that can be changed quarterly. By giving the display a house look it makes it appealing to a broader audience. Keeping the traditional Black & Decker branding statement and colors it maintains its familiarity to the core audience. Moreover, custom photography was shot, using everyday people of varying ages, gender and ethnic groups. Since it is an attractive permanent display that features unique specials and tools on quarterly basis its potential of generating increased sales easily moved the channel to agree to position it at the front of the store.
Project Elements
Develop graphics and suggestions for structure
Design sale support items for presentation to channel, such as in-store renderings
Art direct custom photography
Design and production of graphics for structure
Design/produce support elements such as pins and fact tags
Long term – create quarterly signs
Results
A 67% increase of sales in a ten month period. And in some cases increasing individual product sales by 173%.
Call Today – 888-337-0066 Or fill out this form for a quick estimate on your next display project.
100% Privacy. I will never spam you!